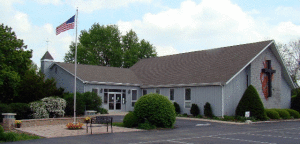 The Evangelical Lutheran Church of All Saints is part of the Evangelical Lutheran Church in America. We have been serving the Chain of Lakes communities since 1961. Through the years, we have been known in the community as "the little church on the hill." Our congregation is made up of warm, friendly people of all ages.
BELIEFS
· We confess the triune God, the Father, Son and Holy Spirit.
· We confess Jesus Christ as the risen Lord and Savior.
· We acknowledge one baptism for the forgiveness of sins.
· The Bible is the Holy word of God.
VALUES
Our behaviors define our witness:
· We demonstrate integrity.
· We tell the truth.
· We respect the individual.
· We promote teamwork.
· We Listen.
VISION
· We are Bible based.
· We educate and are examples in the Christian faith.
· We are welcoming and inviting to others.
· We consistently reach out and communicate.
· We continue to grow.
MISSION
"To share the good news of God's love in Christ with all persons."
MAP